CCTV Camera Installation & Maintenance
For home or business security, nothing is as effective as video surveillance and CCTV. Not only does a CCTV equipment installation deter would be thieves, but also it provides vital evidence that can be used to trace perpetrators of crime. For businesses, CCTV is essential these days and not just for keeping your property protected, but also to ensure the safety of your employees. Householders worried about burglary or antisocial behaviour in their neighbourhood can also benefit from a CCTV security camera installation, which can provide round the clock video surveillance keeping you and your property safe.
Harrow CCTV is a local CCTV company that covers the London and Middlesex area. We provide CCTV installation services and CCTV repair to both householders and local businesses. As a local CCTV company, we pride ourselves on our relationship with our customers, which is why so many residents and businesses in London and Middlesex turn to Harrow CCTV when they want surveillance camera security for their premises. We use all the latest CCTV equipment, including wireless security cameras and the latest in IP security cameras for remote access. Harrow CCTV also provides impartial and unbiased advice and we give all our customers the benefit of over 20 years industry experience.
Security Camera Fitting London & Middlesex
Whether you want comprehensive CCTV security systems for a business, or a single outdoor security camera for your home, Harrow CCTV provides free site surveys for all our customers. We do a complete CCTV survey of your home and business and give you the benefit of our experience to ensure you are getting the security camera system that will work for your property and your budget. Furthermore, following our CCTV survey we give all clients no obligation next day written quotations, so you know exactly how much your CCTV camera install will cost.
Harrow CCTV specialises in both home security cameras and commercial installations, and we offer the same level of customer service to domestic and business customers. As a local CCTV company our reputation means everything, so we endeavour to ensure all our customers are happy no matter how big or how small the CCTV installation is. Whether you need a single CCTV camera for your home, a sophisticated CCTV security system for your business, or your existing CCTV cameras repaired, Harrow CCTV will exceed your expectations.
CCTV Cameras.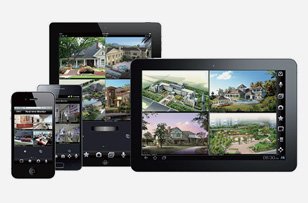 At Harrow CCTV, we keep abreast of all the latest developments and innovations that hit the security camera marketplace. CCTV technology is changing rapidly, and we ensure our customers have access to all the latest video surveillance systems. We specialise in the latest internet security camera technology, including wireless security cameras and the latest in IP security cameras. We also have a wide range of remote access solutions, so a CCTV camera can be linked to your Iphone or Smartphone or monitored on a regular desktop PC. We also have a range of covert and visible video surveillance devices, which include the latest motion detection, night vision & day cameras and security cameras displayed or hidden.
All our CCTV engineers are highly experienced, professional, and vastly experienced in installation of CCTV systems in all London and Surrey areas. We never cut corners and always put the needs of our customers first. Furthermore, our surveillance camera fitting is quick and efficient and we never leave a mess. In addition, we have experience with all sorts of security cameras so can repair and service all existing CCTV installations. Whether you need a new camera system install, an existing system repaired, or just want some friendly, honest advice from a local independent CCTV camera company, call Harrow CCTV and ask about our free site surveys.