All your Audio Visual tech needs, including repairs and installations.
Finding it hard to stay up to date with all the latest audio visual tech? Don't worry, the team here at Harrow Aerials is keeping up to speed with everything for you. So if you need to know what's new in home entertainment, or want someone to fix your set-up or recommend the best upgrade for you, we're the people to call. We're ready to share our expertise with residential and commercial customers across Middlesex / North London. Call 020 8419 8950.
The show must go on
No one wants to be without their AV system for long, which is why we're quick to answer calls from customers in Harrow and the surrounding areas for repairs. We're also the people to call to help you set up your Audio Visual system from scratch. Could be a home cinema, a smart TV linked up to your internet, or a full on presentation system with projectors for your office.
We've always got a plan
Installing an Audio Visual systems takes some advanced planning, to ensure everything's in the right place, and the wires are out of sight. We've plenty of experience at AV system planning, so call us and see how we can bring your ideas to life, and we'll even share a few ideas of our own.
Rely on us for Support, Repairs & Maintenance
Making sure your AV system is AOK. That's the priority of the team here at Harrow Aerials. Call us if you need a quick fix, or even a bit of advice. For something more long term, our AV Support And Maintenance Package is well worth considering. For an annual fee, we'll:
Examine your AV system 4 times per year
Replace faulty equipment
Test your set-up
Tell you about new developments
We can help keep you secure as well as entertained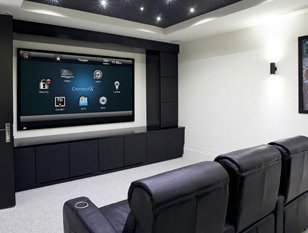 AV also has a role to play in protecting property, and the Harrow Aerials team are experts at the latest security solutions. Call us for a free consultation.
Commercial AV Service
Public venues also benefit big-time from having a great AV set-up, whether it's a kicking sound system in a bar or club, or TVs and projectors to show sport in a pub or gym. Whatever your needs, call the Harrow Aerials team for the best AV solution. We can supply the kit, plan how best to use it, install it, maintain it, and fix it. In short, we're a one-stop-shop for all things AV. Here's some of the other Audio Visual services we offer to prove the point:
TV installation in multiple areas
LCD and Plasma screens for advertising
Video conferencing planning, set-up, repairs and maintenance
Wireless speaker systems for all kinds of outdoor events
Our team of Technicians with CRB certificates to prove their expertise are ready to help. Call now on 020 8419 8950.